Introduction
Before you learn about Woffice vs. Asana, have you ever wondered why effective project management is so crucial? 
It plays a pivotal role in ensuring that tasks are completed on time, within budget, and to the satisfaction of all stakeholders involved. The importance of effective project management cannot be overstated, as it permeates every aspect of modern life, from business and technology to personal projects and beyond.
With it, projects can avoid falling into a state of disarray, leading to missed deadlines, cost overruns, and frustrated team members. A well-defined project plan, complete with milestones and deadlines, serves as a roadmap that keeps everyone on track. 
In this blog, we'll discuss our detailed comparison between Woffice and Asana, two powerful tools that offer unique approaches to project management. 
In this comparison, we will delve into the strengths and limitations of both Woffice and Asana, helping you make an informed decision based on your specific project management needs. 
Whether you're looking for an integrated intranet solution with project management capabilities or dedicated project management software, we'll provide you with insights to guide your choice.
Woffice: A Multipurpose Intranet/Extranet WordPress Theme
Woffice is a multipurpose intranet/extranet WordPress theme that can be used to build a compelling community to accelerate your team management or project management tasks. It is a theme fully compatible with BuddyPress and thus has the potential to feature everything related to community management. 
It includes capabilities such as Wiki knowledge, project management tools, files management, in-built Slack extension, directory extension, calendar & scheduling, etc. 
Thus, it's a helpful and recognized WordPress theme to build sites like government sites, business portals featuring community members, educational/school premises sites, charity sites, professional course sites, or any other kind of intranet/extranet portals.
Asana: Project Management Software
Asana is a project and task management software that allows teams to collaborate, organize, plan, and execute their tasks. It's a software strategically designed so that the teams can spend less time on meetings, writing emails, and collaborating on the assigned tasks. 
Asana's app also integrates well with several other apps, including Slack, Power BI, Zoom, Microsoft Team, Outlook, Gmail, etc. Even though Asana includes capabilities that provide everything necessary for staying in sync, some teams are seeking alternatives to Asana for reasons such as its pricing and other valid concerns.
Understanding Project Management Requirements
Project management is an essential aspect of any organization, ensuring the successful completion of projects within defined parameters such as scope, time, and cost.
Identifying project management needs
Before delving into the selection of appropriate project management software or tools, it is imperative to identify and evaluate the specific needs of a project.  By understanding the project's intricacies and objectives, organizations can determine the necessary project management requirements for successful execution.
Project Scope
Defining the project scope is fundamental to understanding its boundaries and aims. It involves outlining the project's deliverables, goals, and objectives.
Project Complexity
Complexity can be attributed to various factors, such as the number of stakeholders involved, integration requirements, or technological intricacies. 
Team Collaboration
Assessing the team's size, composition, and geographical distribution is necessary to identify the collaboration requirements.  Some projects may require real-time collaboration features, while others may need tools that facilitate asynchronous communication.
Reporting & Monitoring
To ensure effective project management, it is crucial to have the ability to monitor progress and generate comprehensive reports. Different projects may require varying levels of reporting and tracking functionalities. 
Some factors to consider in choosing a suitable software/tool
Once the project management requirements have been identified, it is time to evaluate the available software and tools. 
Features & functionalities
Every project management software and tool offers a unique set of features and functionalities. Some standard features to consider are task management, scheduling, resource allocation, and document sharing.
User-friendliness
Consider the ease of navigation, intuitive design, and the learning curve associated with the selected solution. A tool that is easy to use will maximize productivity and minimize potential errors caused by software complexity.
Scalability & Customizability
Evaluate the scalability and customizability options offered by the software or tool. It should accommodate future project requirements and allow for customization based on specific project needs.
Integration Capabilities
It is vital to consider the integration capabilities of the project management software or tool with existing systems. Seamless integration will minimize data silos and enable efficient communication and collaboration between different platforms.
Key considerations for different types of projects
Here are some key considerations for different types of projects:
Agile projects
Agile projects, characterized by iterative development and flexibility, require project management tools that facilitate collaboration, continuous feedback, and adaptive planning. Look for features like Kanban boards, sprint planning, and user story mapping to manage agile projects effectively.
Construction projects
Construction projects often involve intricate timelines, resource management, and collaboration with diverse stakeholders. Project management software that offers functionalities like Gantt charts, resource allocation, and contract management is essential for successful construction project management.
Software development projects
Software development projects demand tools that facilitate efficient code management, version control, and collaborative software development. Look for features like code repositories, bug tracking, and integrated development environments (IDEs) to streamline software development project management.
Marketing projects
Marketing projects require seamless collaboration, task management, and content creation tools. Look for project management software that offers features like content calendars, social media integration, and marketing analytics to manage marketing campaigns effectively.
Comparing User Interfaces & Usability
Woffice is designed with a focus on creating a comprehensive and user-friendly community management platform. Woffice's dashboard contains a variety of valuable widgets as described below:
You can drag and drop widgets in Woffice and customize the entire look for your community-focused website.  But that's not all! We also have a handy side panel for easy navigation. It's like having a map to explore more of what Woffice has to offer. You can visit tabs like Community, Events, Projects, Wiki, Blog, Addons, Contact Us, etc.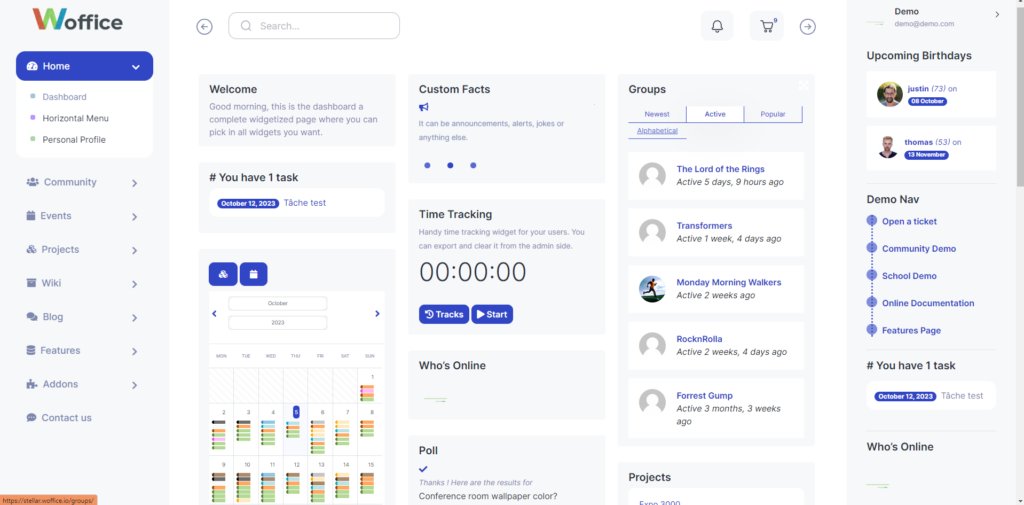 Asana's user interface is also simple and intuitive. You can find an easy-to-navigate tab on the left panel containing My Tasks, Inbox, Insights, which has reporting, portfolios, and goals, and Projects. Then, you can also view your Team.
Asana's primary features are listed on the left side of the screen, giving you easy access to them. Tabs at the top of the screen make navigation simpler. If you want to see more information on the screen, you can temporarily hide the navigation features. If your team has specific characteristics that need emphasis, you can customize the dashboard's appearance.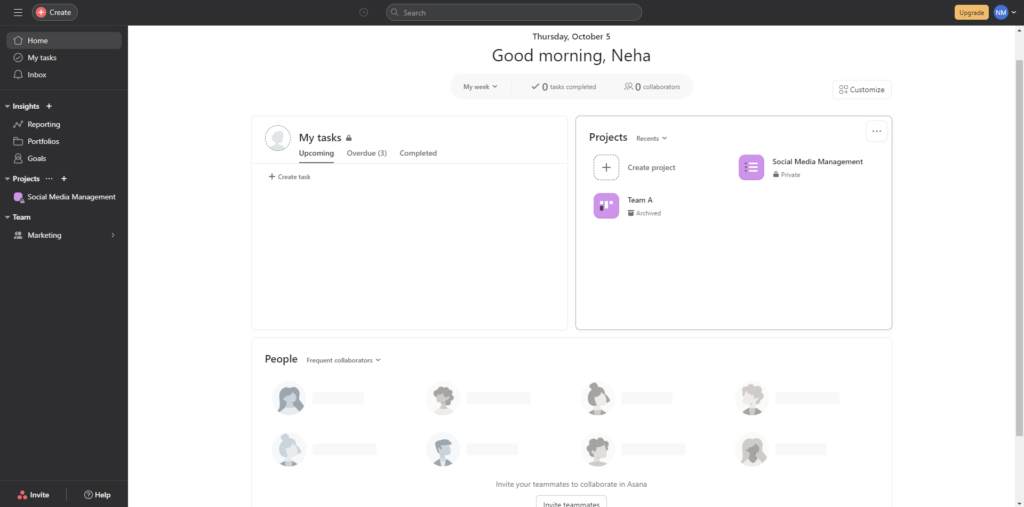 Integration & Compatibility
Woffice's integration with tools like Asana and Google Calendar and compatibility with the most popular WordPress plugins is what makes it a highly recognized multipurpose intranet/extranet theme. Without any further ado, let's learn more about Woffice's integration and compatibility capabilities below.
Woffice comes with an inbuilt Slack extension, Elementor integrations, i.e., one of the popular page builders, and so on. It integrates very well with Google Drive to display Wiki posts. You can easily set up a Google project by creating an OAuth client ID that is supported by one of the Woffice's add-ons. 
Woffice comes with its event calendar extension, aiming to replace the DP Pro Event Calendar and EventON. However, you can still use them as they are available and included with your Woffice license. The theme also consists of an inbuilt OpenAI extension for which users need to buy Woffice credits, and they can enjoy the potential of artificial intelligence within the WordPress theme.
In terms of compatibility, you can enjoy following WordPress plugins with Woffice.
BuddyPress

Elementor

WooCommerce
And Woffice's addons are powerful enough to shape it into a comprehensive project management and CRM platform. 
Over 100 well-known third-party applications, including Slack, Dropbox, Google Drive, Zapier, Tableau, Zoom, and Salesforce, are integrated with Asana. 
When a task or project in Asana is updated, for instance, your team can be quickly notified via Slack. It's essential to keep in mind that not all plans include advanced integrations like Salesforce and Tableau.  
However, Asana might be tough to use via mobile app, whereas the Woffice theme is 100% mobile-responsive and thus works seamlessly with your mobile devices as well. All in all, Asana might include high-end integration capabilities, but it's pretty pricier to leverage its full potential. With so many integrations, it also becomes complex and involves a lengthy learning curve on the user end to understand Asana. Thus, Woffice might seem an ideal fit for most of the users in the battle of Woffice vs. Asana, especially when it comes to pricey features.
Cost & Pricing Models for Woffice vs. Asana
Woffice's pricing is quite genuine and is strategically designed to suit your varying needs. We have four pricing plans worth considering, as defined below.
Basic: This is an essential plan to purchase a standalone Woffice theme at just $69 with lifetime updates. 
Personal: Ideal for individual project managers or single sites, this plan costs $59 per year, providing regular updates, customer support, and access to our key features.
Pro: If you're running a growing business or an active online community, the Pro Plan at $99 per year unlocks advanced features with access to our CRM & HR management addons, priority support, integration on up to 5 sites, and enhanced customization options.
Agency: Agencies and organizations handling multiple projects will find the Agency Plan beneficial. For just $199 per year, you can use Woffice on up to 25 websites, enjoy top-notch support, and access exclusive features.
Get started with Woffice here.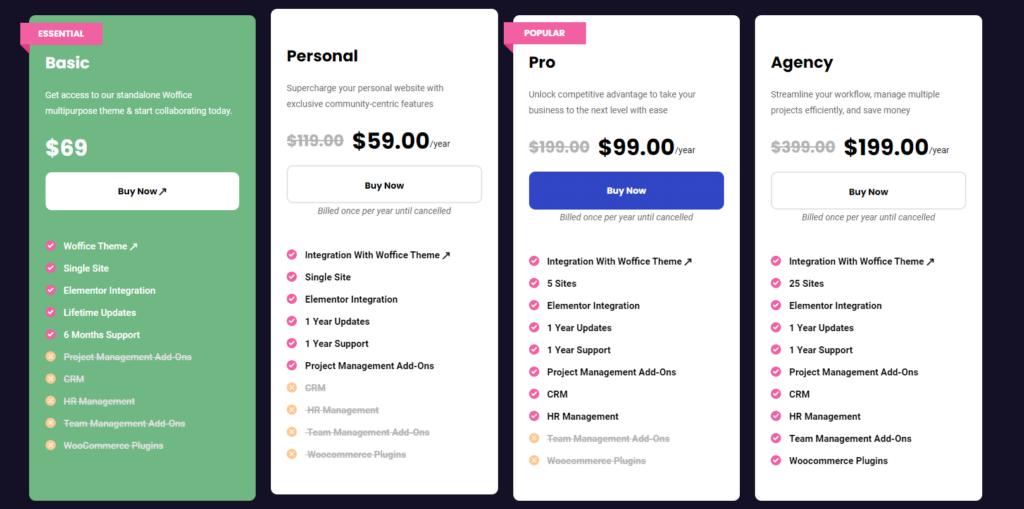 Asana offers a variety of packages for all types of users. As mentioned earlier, Asana has a fantastic free forever plan available. Here is a summary of the various plans and prices Asana offers:
Basic: Team collaboration is supported with the free Basic plan, which allows up to 15 users to work on the same project. The plan limits the number of tasks per team to 1,000, but this is often more than enough for smaller projects. Basic users get unlimited projects, unlimited messages, unlimited teams, unlimited log activity, and unlimited file storage.
Premium: It costs $13.49 per user per month when billed monthly and $10.99 per user per month when billed annually. Asana Premium provides advanced project management features such as Advanced reporting, Setting milestones, Creating task dependencies, Creating customizable dashboards, and Creating a workflow builder. 
Business: The Business plan ($30.49/user per month if billed monthly) vs. ($24.99/user per month/year if billed annually) has additional features to help grow teams. The Business plan includes Portfolios, a part that shows the progress of each active project a team is working on. It also consists of a Workload feature that shows the workload assigned to each team member.
Pros & Cons of Using Woffice & Asana
Pros of Woffice
Mobile-responsive WordPress theme

Google Docs to Wiki feature

Multipurpose

Enhanced compatibility with feature-rich add-ons

Transferable in 15+ languages

Affordable & customized pricing plans

Time tracking in the basic plan

Easy to assign tasks to multiple users

AI integrated into the theme

Woffice Event extension

Inbuilt Slack extension

CRM capabilities

HRM capabilities

Unbeatable support team
Cons of Woffice
No add-ons are offered in the basic plan

More features regarding intranet capabilities than extranet
Pros of Asana
Custom project management

Ideal for small teams

Easy to set projects

Easy to invite multiple team members

Can track task progress

Notification system

Scheduling of tasks in a calendar

Easy team collaboration

Pleasing design

Third-party tools integrations
Cons of Asana
Lack of CRM features

Lack of HRM features

Tricky to use the app

Lack of Wiki feature
Comparison: Woffice vs. Asana – Key Differences
Woffice stands out as a versatile intranet/extranet WordPress theme that goes beyond simple project management. It offers an extensive range of features to empower teams, making it an ideal choice for those looking to streamline their team management or project management tasks.
With its seamless integration with BuddyPress, Woffice takes community management to new heights.
This WordPress theme has gained recognition for its ability to support various types of intranet/extranet portals. Whether it's government sites, business portals, educational institutions, charity organizations, or professional course sites, Woffice can powerfully cater to diverse needs.
Asana is a dedicated project and task management software designed to streamline team collaboration, organization, and execution. Its intuitive interface and robust features make it a popular choice for teams seeking an efficient work management solution.
Conclusively, both Woffice and Asana serve distinct purposes within the realm of work management. Woffice, with its multipurpose intranet/extranet WordPress theme capabilities, caters to a broader range of needs, while Asana excels in providing a specialized project management software solution. 
Who Should Choose Woffice or Asana?
Both Woffice and Asana offer valuable solutions for project management and team collaboration. Woffice excels in its versatility, offering project management, team management, CRM, and HRM features within a WordPress intranet/extranet theme. 
On the other hand, Asana focuses specifically on work management, providing a streamlined approach to project tracking, task delegation, and team communication.
When choosing between Woffice and Asana, consider the unique needs of your organization. If you require an all-in-one solution with advanced capabilities, including CRM and HRM, Woffice may be the ideal choice. 
Even if you're looking for efficient work management and simplified project collaboration, Woffice's Premium and Pro plans have it covered.
A strong team is the backbone of any successful organization, and Woffice recognizes this by offering robust team management features. You can create teams, assign specific roles and responsibilities, and facilitate seamless communication within your organization. 
Woffice allows team members to collaborate on shared tasks, share files, and exchange feedback, promoting a cohesive and productive work environment.
Woffice is not just your ordinary WordPress theme; it is a robust intranet and extranet solution packed with a wide range of features designed to streamline project management, team collaboration, customer relationship management (CRM), and human resource management (HRM).
Ultimately, both platforms, i.e., Woffice and Asana, have their strengths, and choosing the right one depends on your organization's specific goals and preferences. Explore the features, consider your priorities, and make an informed decision that will help drive your projects toward success.