Good Project Management Software Makes Project Planning, Implementation, And Reporting. It Has A Detailed Record, So Everybody Sees Who Is Doing What Or When. Various Project Management Software Offers Features To Support You With Every Phase Of Your Project, Starting With The Basic Outline. Now, A Question Is Raised In Your Mind, How To Choose The Right Project Management Software? However, It Is Most Likely Dependent On The Project, Your Workflow, The Size Of Your Team, The Project Size, And, Most Importantly, Your Budget.
If You're Searching For The Best Project Management Software That Can Do It All, Then You've Come To The Right Place.
Which One Comes Out on Top?
To Make Things Easier, We've Put Up This Blog Comparing Trello With Woffice Project Management Software. You've Most Likely Come Across This In Your Search. To Give A Sense Of The Experience, We've Highlighted What Each Does Better, The Software's Similarities And Differences, Comparing Pricing, In-Depth Information On Features, And Customer Support Services. We Hope This Relieves You Of A Few Of The Challenging Work And Removes Some Of The Distractions
There Are Lots To Cover, So Let's Get To It!
What is Trello?
Trello Is A Task Management Software That Tracks Tasks Using A Kanban Board. It's One Of The Best Ways To See How A Project Progresses; However, It Can Be Challenging To Keep Track Of Subtasks And Dependencies. It Has A Lot Of Power. Tasks Include Rich Features Such As Photos And File Attachments, Deadlines, And Other Progress Monitoring Data. Plus, It Supports Integration With Many Third-Party Applications And Services.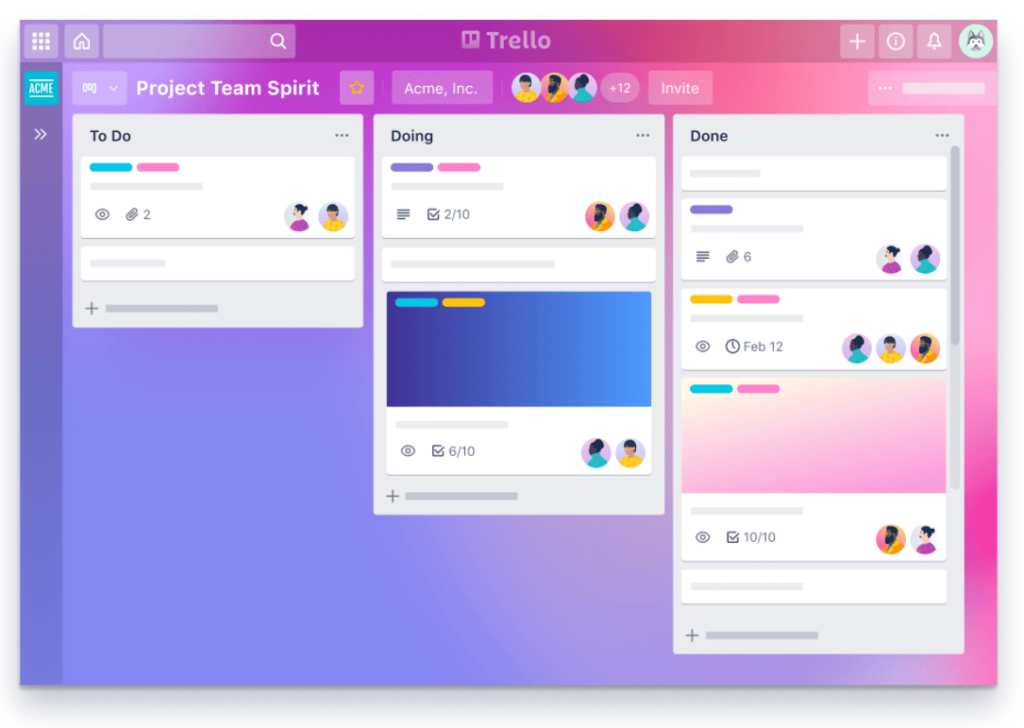 What is Woffice?
Woffice Is A Powerful, Feature-Rich Multipurpose Intranet/Extranet WordPress Theme. It Is The Theme That Will Improve Your Company And Automate Repetitive Tasks. It Also Fits Various Applications, Including Business And Government Intranets/Extranets, Educational Networks, Community Networks, And Organizations. Woffice Theme Has A Fixed Price.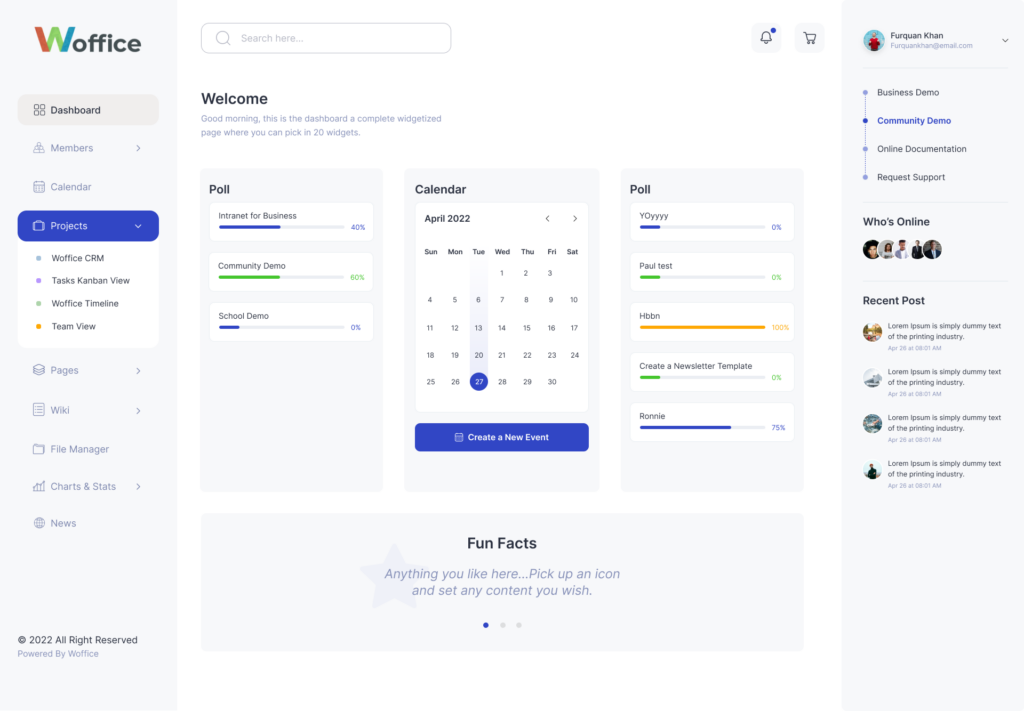 Key Similarities and Differences
Before Looking Into The Exact Features Provided By Each Project Management Software, Let Us Now Explain What Trello And Woffice Are About By Evaluating Their Key Similarities And Differences.
Key Similarities
Now, Let's See What The Similarities Are Between Trello And Woffice.
Trello And Woffice Both Support Integration With Many Third-Party Applications And Services.
Both Trello And Woffice Come With Similar Project Management Features.
Trello And Woffice Are Both Easy To Use And Don't Require Any Coding Skills.
Key Differences
Now, Let's Talk About Some Of The Essential Differences You'll Find Between Using Trello And Woffice.
Begin With The Most Basic Level — The Pricing. Trello And Woffice Both Have Different Pricing Methods. Trello Has Various Types Of Pricing Plans, Where Woffice Has A Fixed Price.
Woffice Is A Multipurpose Intranet/Extranet WordPress Theme, Where Trello Is A Software As A Service.
Trello Offers A Free Trial, Where Woffice Doesn't Provide Free Pricing Plans.
See What Actual Users Have to Say
You Don't Take Our Word For It. See Now What Actual Users Are Saying About Project Management Software.
Trello's Real Users Reviews
To Give You An Idea, We List Out Some Actual Customers Reviews That Love To Use Trello.
"Overall Experience With Trello Is Very Positive. It Is The Perfect Tool To Work Remotely, And As A Freelancer, I Can Collaborate With Different Clients On The Same Program, Just Switching Through Different Boards. It Has Great Functionalities And Even A Lot More Potential Than I Need, So It Is Good To Know That There's Room For Me To Expand My Workflow Even Further. There Are Some Minor Inconveniences, But Overall I Am A Pleased User."
– Lina S.
"My Experience With Trello Was More Than Satisfactory. I Have Used It For Many Years, Both To Organize Personal Tasks, Projects, University Work, And Developments At Work. It Fulfills Its Function To The Letter And Runs In A Way That Looks Like You Are Using It Locally. I Highly Recommend It As It Is, In My Opinion, The Best In The Area It Encompasses."
– Juan Manuel C.
Woffice's Real Users Reviews
See What Woffice's Real Users Are Saying About Them.
"This Theme Is Simply Perfect. I Use It As A Private System For A Recruiting Company. I Wanted Members To Be Able To Make A Profile, Post Jobs, And Others To Apply, Privately Communicate, And Share Content. All Of This Is Possible (Works Great With Wp Job Manager And BuddyPress). It's Also Fully Translatable And Has A Lot Of Styling Options. The Only Thing Is It Takes A While To Configure Everything, But After That, The Result Is Amazing. I Can Really Recommend This Theme, And The Support Is Quick And Helpful Too!"
– Mitchie
"This Is A Great Theme. It Is Very Intuitive (A Little Bit Of A Learning Curve, But It's Not Overwhelming). The Tech Support Has Been Excellent, Very Clear, And Resolved Two Issues I Was Having. I Actually Installed The Alliance Intranet Site First, And That Was An Absolute Nightmare…Horrible, And Tech Support Told Me To Change The PHP In Order To Make Things Work. I Don't Think So! This Theme Is Straightforward And Is Exactly What I Needed. Excellent Theme And Support."
– Aradia
Trello and Woffice: Compared Their Core Features
Now, Let's See How The Key Features Of These Two Project Management Software Stack Up To Each Other.
Features

Trello

Woffice

Pricing Plan

Basic – Free

Standard – $6 per month

Premium – $12.50 per month

Enterprise – $17.50 per month

 $79

Software/Theme

Software as a Service

WordPress Theme

Key Features

Recurring Tasks

✓

✓

Support Multiple Languages

✓

✓

Project Management

✓

✓

Support Team

✓

✓

Free Trial

✓

✘

Multiple Assignees

✘

✓

Team Collaboration

✓

✓

Project Planning and Scheduling

✓

✓

Third-party Integrations

✓

✓

Collaborate Easily

✓

✓

Free-plan Available

✓

✘

Kanban Boards

✓

✓

Real-time Collaboration

✓

✓

Assign Tasks

✓

✓

Time Tracking

✓

✓

Integrated Calendar

✓

✓

Set Due Dates and Times

✓

✓
Pricing Plans of Trello and Woffice
When It Comes To Pricing, There's Are Differences Between Both Pricing Methods. Trello Has Different Price Plans, Where Woffice Has A Fixed Pricing Plan.
Pricing Plans for Trello
| | |
| --- | --- |
| Plans | Trello |
| Basic | Free |
| Standard | $6 / per month |
| Premium | $12.50 / per month |
| Enterprise | $17.50/ per month |
Pricing Plans for Woffice
| | |
| --- | --- |
| Regular Price | $79 |
| Extend Support | $25.13 |
Popular Feature Highlights
This Section Will Define The Rich Features Of What Both Project Management Software Offer In This Regard. Let's Have A Look.
Unique Key Features of Trello
So — What's Unique About Trello? Here's A Quick Outline Of Some Of The Basic Features That Trello Offers.
1. Boards
The Blank Canvas On Which Your Team Will Build A Masterpiece.
2. Lists
There Are Various Phases Of A Project. Begin With Simple Instructions Like To Do, Doing, And Done, Or Create A Process Specific To Your Team's Specific Requirements. There Is No Improper Way To Trello.
3. Cards
Cards Identify Your Tasks And Include Everything You Need To Complete Them. As You Go, Everyone Is Aware Of The Status Of The Tasks At Hand; Drag Cards From List To List.
4. Members
By Adding Members To Cards, You Can Keep Everybody Responsible. See Who Is Doing What And What Still Has To Do At A Glance.
5. Advanced Checklists
It Is The Most Powerful Tool For Dealing With Numerous Inquiries. Divide Large Tasks Into Smaller Ones, Cross Items Off The List, And See The Progress Level Approaches 100% Completed.
6. Attachments
There's No Need To Go Through Lengthy Email Threads Looking For Attachments. Drag And Drop Them Onto A Card To Have The Relevant Files With The Proper Tasks.
7. Butler Automations
Butler Automations Can Help You Create Better Workflows. Butler Helps To Automate, Regulate, And Control Your Trello Board To Reduce Repetitive Work. Plus, Butler Does Not Need Any Coding Knowledge. Natural Language Allows For The Easy Creation Of Automation. It's Like Playing Productivity Mad Libs.
8. Create Colorful Collaboration with Card Covers
Trello Boards And Cards Can Make Extra Visual Appealing By Using Card Covers And Colors. To Make A Front Covers Show On Your Trello Cards, Add Your Images Or Utilize The Unsplash Gallery.
9. Supports Kanban System
The Kanban System Supports You In Breaking Down Your Work Into Smaller Parts By Using A System Of Boards And Cards.
10. Get Instant Notifications
Whenever The Tasks Are Updated, Commented On, And Removed, You Will Get A Notification Via Email. So, You Can Never Miss The Updated Task Details.
11. Ease of Use
In Trello, You Can Easily Add A New Task By Adding A New Card And Giving A Title For A New Task. Plus, You Can Add Labels And Categorize That Cards. You Can Also Modify The Card Label And As Well As Move It To Any Category.
12. Provide Time Tracking Features
The Time Tracking Feature Will Monitor Time Spent On Tasks And Then Charge It To Clients Or Create Project Performance Improvements.
13. Task management
Trello's Task Management Method Utilizes Kanban-Style Boards And Cards. You Can Use These Cards To Discuss Ideas And Give Tasks, Which You Can Then Manage Using Various Boards. Trello's Drag-And-Drop Feature Allows Users To Transfer Cards Across Boards Quickly. Custom Workflows Can Implement In The Premium Version. You Can Also Build And Give Checklists To Users, Add Labels, And Specify Due Task Dates.
14. Third-party Integrations
Trello Integrates With Many Essential Applications And Platforms For File Sharing, Website Development, Marketing Automation, Team Communication, Video Conferencing, And Sales Automation. Like Slack, Google Drive, Dropbox, Evernote, Confluence, And Much More.
15. Visualize Project Workflows
Use Kanban And Scrum Layouts To Show Projects Visually. Build Team Requirements List Columns And Label Them As Per Their Workflow Stages To Keep Items Categorized And Detect Issues.
16. Centralized Collaboration
To Improve Team Collaboration, Add Description Fields, Files, And Comments Sections To Cards. Identify And Add Team Members To Cards To Determine Who Is Responsible For Each Task.
17. Simplify Communication
Integrates With Email, Enabling Users To Comment On Trello Cards And Share Files From Their Mailbox. Every Board Has Its Email Address, Which Allows You To Create Cards Via Email As Well.
18. Work With External Users
Allow Visitors To Work On A Single Or Many Boards To Interact. Allow Limited Access Without Affecting Boards That Are Only For Internal Use.
Excellent Core Features of Woffice
There Are Many Reasons To Like Woffice. Let's Have A Glance At Some Key Features Of This Theme.
1. Projects Manager
You May Create An Infinite Number Of Projects And Tasks, Assign Members, Manage Files, And Sync Your Calendar.
2. Website Monetization
The Theme Integrates Seamlessly With WooCommerce, Allowing You To Generate Money For Your Company By Setting Up An Online Store In Minutes. The Theme Also Integrates With LearnDash, The Top WordPress Learning Management System, Allowing You To Sell And Administer Online Courses. If You Run A Service-Based Business, Use The Paid Membership Pro Plugin To Establish Premium Membership Plans And Access Service Bundles Based On Membership.
3. LearnPress Support
With The Fantastic LearnPress Plugin, You Can Create Excellent Courses And Classes.
4. Front-end Editor
Customers Can Create Projects, Posts, As Well As Other Content Without Ever Visiting The WordPress Dashboard.
5. Included with Revolution Slider
It Also Included Data Protection, A File Manager, A To-Do List, Comments, And Notification. Slider Revolution Is A Unique, Fully Responsive Slider Plugin It Shows Your Content Attractively. The Visual, Drag-And-Drop Editor Will Allow You To Tell Your Own Stories In No Time, Whether It's A Slider, Carousel, Hero Scene, Or Even A Whole Front Page.
6. Created with Shortcodes
You Are Ready-To-Use Shortcodes With The Ability To Create Whatever Text You Require Using Your Website's Information.
7. Members Directory & Map
Find All Of Your Members Together In One Location With Endless Custom Fields, Search Filters, And So On.
8. Albums & Video
Albums, Photo, Audio Or Video Encoding, Privacy, Sharing, Front-End Uploads, And More Features Are Available. All Of This Is Compatible With Mobile And Tablet Devices.
9. Charts and Graphs
An Easy, User-Friendly, And Powerful Tool. For Creating, Managing, And Embedding Interactive Charts In Your WordPress Posts And Pages.
10. Support Multilanguage
It Translates Into English, French, Spanish, German, Persian, Russian, Japanese, Portuguese, And Italian.
Professional Dedicated Support
When You Invest Money On Software Or A Theme, You Want To Ensure You'll Get The Help You Need If Difficulties Occur. Whichever Software You Select, Having Access To High-Quality Support Is Necessary. Thus, Let Us Take A Closer Look At Specific Customer Support Testimonials For Each Project Management Software.
A Customer Support Review on Trello
Now, Let's See What Trello's Actual Customers Say About The Support Team.
"Trello Is Helping Our Team To Increase Its Performance. Its Simplicity In Creating And Sharing Comments About Tasks Or Even The Tasks Themselves (Described In Trello Cards) Saves Us Much Time. We Know Who Is Taking Care Of Which Task And How It Is Going. It's Simple And Fantastic!"
– Fernando D.
"My Organization Uses It Constantly For Collaborative Projects And Personal Projects, And It's Honestly Been Wonderful Additional To Our Tools. I Also Enjoy The Customization Of Changing The Backgrounds And Things Like That And The Templates You Can Customize Based On The Type Of Board You Need. Overall, My Experience With It Has Been Fantastic."
– Heather B.
A Customer Support Review on Woffice
Let's Look At Some Of The Woffice Theme's Customer Reviews For The Support Team.
"This Is A Really Good Theme – Amazing Functionality And Value. Super Flexible But "Out Of The Box" Enough That It Was Easy To Get Started With Them. We're Delighted With How It Looks, And Functionally It's Literally Perfect. But Most Importantly, The Customer Support Was Amazing. Very Responsive And Willing To Go Above And Beyond To Make Sure We Were Happy. You Can't Go Wrong With The Theme."
– Patperdue
"We Run A Community Of 11,000 Members, And WordPress & WOfiice Are Great Tools! The Theme Fits Our Needs. Customer Service Is Excellent (We've Had Some "Issues" With Plugin Conflict, And They Are VERY RESPONSIVE & Helpful To Get To A Fix). Easy To Tweak And Add Custom CSS, Within Reason – No Need To Edit Any PHP. However, We Were Able To Change Labels And Such By Editing Those Too Easily. I Just Wish BuddyPress Had Better Support, Acknowledged ALL Existing Members Right After Installation, And Had More Flexibility With The Built-In Feature Set – I've Had To Add A Number Of Plugins To Add Features Like Editing The Activity Stream. I Would Encourage You To Consider WOffice And Other Themes From AlkaWeb – We Also Own Starry Theme (Love Cursor Effects!)."
– Chroniccosta
Trello vs. Woffice: Final Conclusion
We Have Reached The Conclusion Of Our Ultimate Trello Vs. Woffice Comparison, And It's Time To Conclude. Trello And Woffice Are Both Project Management Software. But, Eventually, Their Both Look Like Day And Night Because Trello Is A Software As A Service, Where Woffice Is An Intranet/Extranet WordPress Theme, Which One Software You Choose Is A Personal Choice. Everything You Need To Take Out Of The Software Also Depends On Your Budget. In Short, Both Are Excellent In Their Way.
Which Project Management Tool Has Taken Your Attention? Let Us Know In The Comments Here What You Think Of Trello And Woffice.